New Delhi March 11, 2019 Mr Nitin Gadkari , Union Minister for Road Transport and Highways, Shipping and Water Resources here today urged the private sector to invest liberally in the development of expressways and waterways especially on the recently launched 1,320 km-long Delhi-Vadodara-Mumbai Expressway, to be developed at an projected cost of ₹90,000 crore by 2022.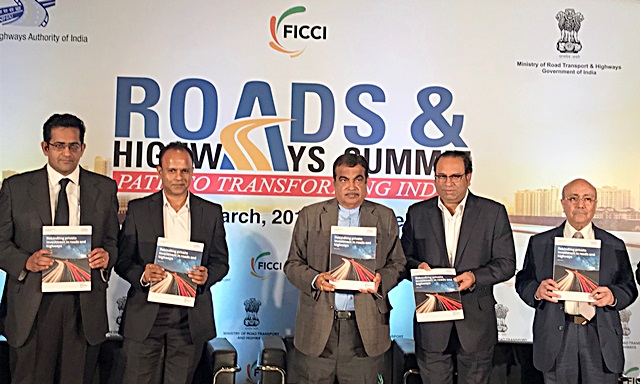 "For the development of expressways, the government had brought down the cost of land acquisition drastically to Rs 80 lakh per km from Rs 7.5 crore per km earlier as well has started acquiring 80 per cent of land and getting all environment clearances before allocating any project to bidders." Said Mr Nitin Gadkari while inaugurating a day long Summit on 'Roads and Highways ,path to transforming India' organised by Federation of Indian Chambers of Commerce and Industry (FICCI), NHAI and Ministry of Road Transport & Highways (MoRTH) here today.
"The Industry and private sector players should consider building smart cities and industrial corridors along the expressways especially the one coming up from Delhi –Mumbai corridor, which will be passing mostly through rural and tribal areas in the States of Rajasthan, Gujarat and Maharashtra in view of the reduced land acquisition and labour cost. It will be an access controlled expressway" Said Mr Gadkari.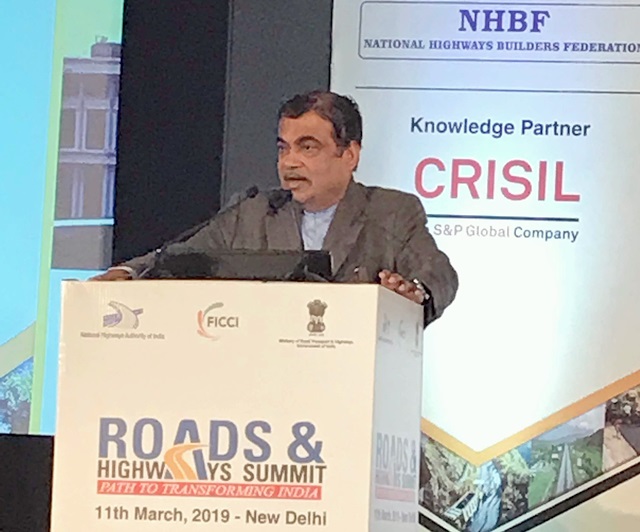 "The 12-lane Bombay-Delhi expressway, The Expressway aims to decongest the busy Delhi-Mumbai national corridor or NH-8. It is expected to reduce the distance between the two cities by about 120 km.The government had decided to focus more on waterways now and has decided to convert 111 rivers into waterways and sought industry's cooperation in transport of goods on waterways which would reduce the cost of transport to Re 1 per km, as against road transport cost of Rs 10 per km. and railways at Rs 6 per km." He said.
"After success of Haldia-Varanasi waterway, it is being planned that waterway from Delhi to Allahabad will be started soon at cost of Rs 12,000 Crore. The Detailed Project report (DPR) is ready It is very important to understand that to run a ship in any river, it must be water rich. So all preparations are being made to ply small ships in the Yamuna River." Mr Gadkari said.
" The work of deepening the Yamuna river with help of dredging machines will soon start in the low water level at the stretches in Agra, Mathura and Etawah Once this project is complete, the work for connectivity from Allahabad to Ramnagar (Varanasi) will be started that will complete the project by connecting New Delhi, Agra, Mathura, Allahabad, Varanasi, Patna and Haldia (West Bengal)." He added.
"Cargo ship will ply on Delhi and Allahabad route and even cruise ships will also be on this route and one such ship has already reached Allahabad. This will be plied locally in Allahabad. Terminals for ships are being planned in Allahabad, Kaushambi, Chitrakoot, Fatehpur, Agra and Mathura and terminal will be built there." He said,
"Government has planned to transport about 80 lakh tonne of Sugar from Uttar Pradesh State through river transport to Bangladesh by the current Financial year 2019-20 and about 280 lakh tonne within the next Two years from the sugar cane rich state" he said.
"The government's move to acquire 80 per cent land and getting environment clearances before awarding tender Will help private players to invest and remove hurdles in the success of the Hybrid Annuity Model (HAM) ,which is an improvised of erstwhile Build Operate Transfer (BOT) " said Mr K K Kapila, Co-chairperson, FICCI Infrastructure committee and Chairman, International Road Federation (IRF) while speaking on the occasion.
" We urge the government to include deployment of Intelligent Transport System (ITS on the National Highways as it will will have a major impact that will include: Mobility improvements, as measured in travel time and on time performance, Higher capacity utilisation of existing network and better levels of service; Cost savings to transport providers, users and travellers, Improved safety through greater control on vehicle speeds, mitigate traffic conflicts or traffic law violations and Energy and environmental benefits through fuel savings and reduced pollutants emissions." added Mr Kapila.
The others who were present on the occasion included Mr Sandip Somany, President, FICCI, Mr Yatinder Pal Singh Suri, MD Outokumpu India, Mr K P Maheshwari, Chairman, FICCI Committee on Infrastructure, Mr Asheesh Sharma, IAS, Member Finance, National Highways Authority of India Mr K P Maheshwari, Chairman, FICCI Committee on Infrastructure, Mr Shailesh Pathak, Chief Executive Officer, L&T Infrastructure Development Projects Limited, Lt. Gen Ravi Shankar, President, Intercontinental Consultants and Technocrats.