Leaders are the role models who inspire the followers and motivate them to reach the pinnacle of the success. The investiture ceremony of MBS International School, for the academic year 2018-19 was held on 14th August, 2018 in the school auditorium. The ceremony started by lighting the lamp which signifies removal of darkness and the continuous upward movement of the flame denotes the path of wisdom and divinity. It was followed with the prayer and a song by the school choir.


MBS International School was privileged to have Honourable Captain Satendra Sangwan as the Chief Guest of the occasion. The lamp lighting was followed by a dance which motivated the students to awaken themselves, thereby helping others and the nation to awaken. The school council members were conferred upon with sashes and badges by the Chief Guest and the flags were handed over, a symbolic representation of handing over the responsibility to the new office bearers. The oath was administered by the leaders.


The Chief Guest addressed the students by asking them to be good leaders, shouldering responsibility efficiently. He enlightened them by stating that they have to be role models to their peer group and set the standards high for their juniors to follow. Narrating his own experiences, he motivated the students to conquer peak after challenging the peak of success and encouraged them to never give up as it is the lowest tide which rises up to be the highest one.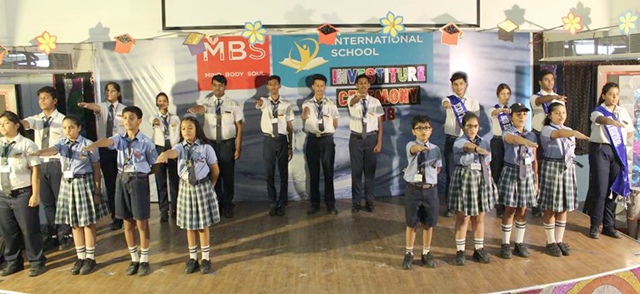 The Head Boy and Head Girl promised a definite change for the better tomorrow with great conviction in their speeches. The whole stage lit up with vibrant colors of the different flags and the event reinstated the faith in the calibre of future generation. The event concluded by the vote of thanks proposed by the anchors.
It was a memorable day for MBS International School.