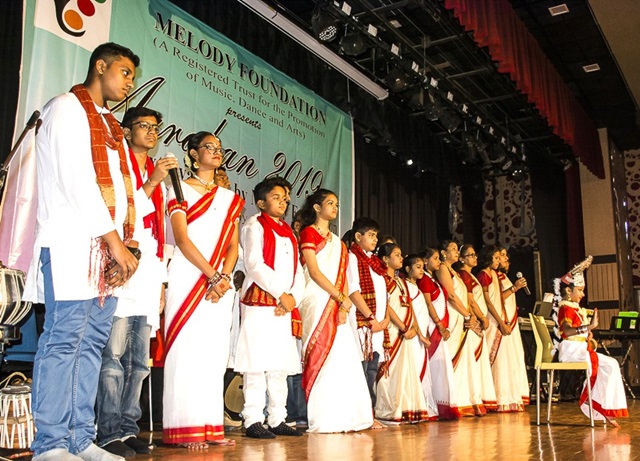 Melody Foundation celebrated their Annual Function on 31st August 2019 at Deen Dayal Upadhyaya college, Dwarka with mind-blowing performances and eminent guests.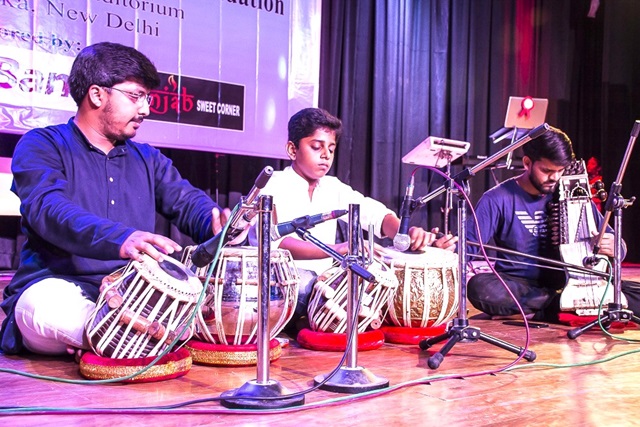 The entire show was compered by Mrs. Neeru Gupta and Mrs. Pooja Sharma. The program began with lighting of the lamp by the principal of Deen Dayal Updhyaya college, Dr. Hemchand Jain, Nita Arora (principal of Shri Venkateshwara school) Anit Khosla (principal of GD Goenka, Dwarka), Col. Aneja( Dwarka Kala Sangam), Karuna Shrivastava( ADG of All India Radio). Notable guests like Mrs Cicly Codiyan (ANHLGT), Mr. S. S. Dogra(News Editor), Mr. Malay Chakrobarty (Pahal Social Organization), Mr. and Mrs. Dhunta (Sursanjivani), Mrs. Preetima Khandelwal (Knowledge 360), Mrs. Shaili Dhagat (Mrs. India), Mr. Anshu Thapliyal (Hindustani classical singer), Shailesh G (Classical vocalist) .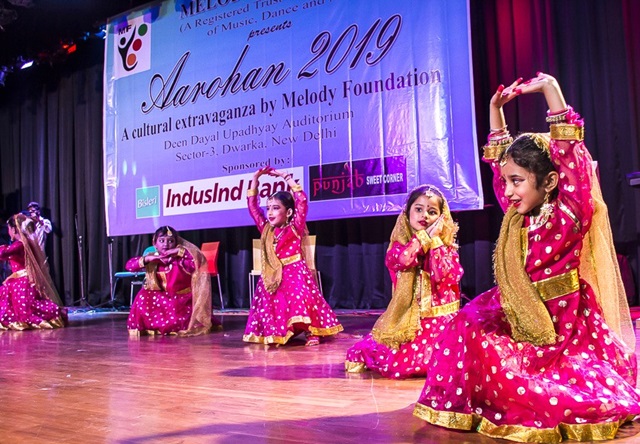 The lighting of the lamp was followed by Saraswati Vandana which was sung by the young and adult vocal students of Melody Foundation. The highlight of the day was the versatility of the program. It included performances by students learning guitar and keyboard and were mentored by Mr. Sunil Rai, who also performed a melodious hindi medley.  The tiny singers of Melody Foundation also performed a medley along with live music. The tiny tots gave a delightful kathak performance along with the senior students, giving a magnificent dance show which was mentored by Ms. Nimisha Chauhan. There was also an energetic performance given by students learning bollywood and were mentored by Mr. Anil Rathore, who also performed with one of his students Keerat. Another dance showcase was given by Bharatanatyam students performing a Durga shlokam and a duet performance, both mentored by Ms. Yamini Gururani. Ms. Yamini also gave an enthralling invocatory performance on Lord Ganesha.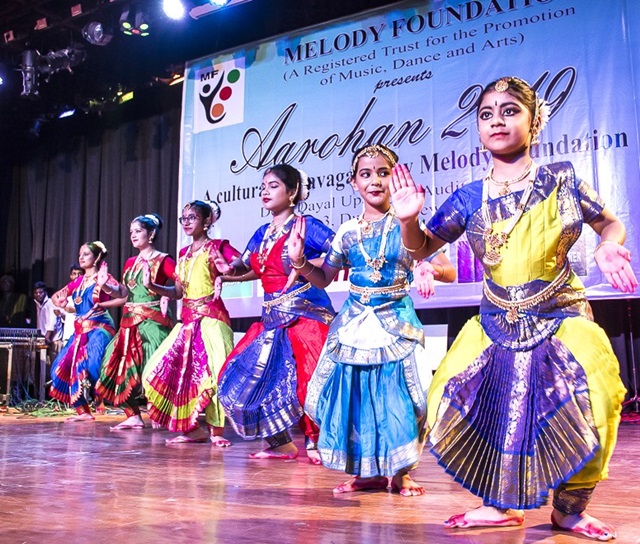 Melody foundation also teaches Indian guitar and the students performed a medley of songs which was accompanied by Avijan on percussion instruments and was mentored by Mr. Sudipto Majumdar. Further, solo mouthorgan performance was given by Mjr. Gen. Mukesh Gupta. Music and singing ware very prominent as solo singing performances were given by Harshika, Satyam, Sahnvi, Mr. Anup Kumar Biruly, Mr. Ashok Nanda, Mr. Ashutosh Pandey, Ms. Anjali. The adult vocal students also gave a group song along with table and dholak students who were mentored by Mr. Shambhunath Sinha. Wonderful duet performances were also presented by Mr. Anup Kumar Biruly and Sharmila and Anjali and Dushyant.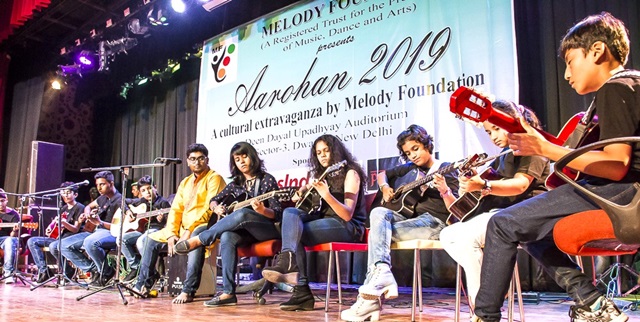 It was a brilliant evening as many awards were given to students who received distinction in their respective field, for hard work and regularity and also to students who are consistent student of the month in class. Lastly, the faculty Abhijit Mishra and Avijan performed a mesmerizing song.
Mrs. Madhumita Acharya Biswas along with her team staged a beautiful evening and displayed a variety and provided a platform for budding artists to showcase their talent.