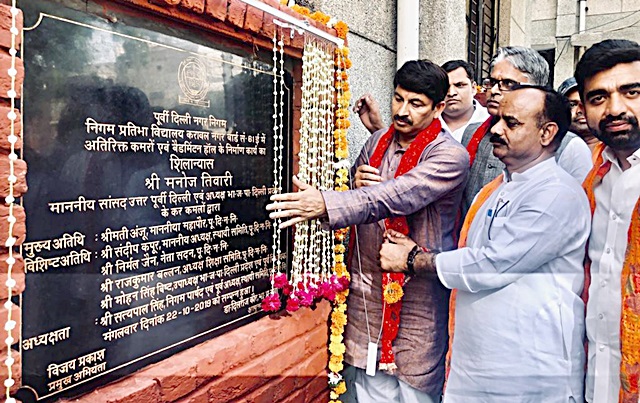 BJP Delhi Pradesh President and North East Delhi MP Shri Manoj Tiwari todaylaid the foundation of Corporation Dispensary, additional rooms in Corporation Pratibha Vidhyalaya, Badminton Hall and one Auditorium to be constructed by the East Delhi Municipal Corporation. Children of the school felicitated National President of BJP and Home Minister Shri Amit Shah on his Birthday by cutting a big cake. Councilor Shri Satyapal Singh presided over this programme. Health Committee President Shri Sachin Sharma, Zone Chairman Shri Pravesh Sharma, former Councilor Smt. Usha Shahstri, Media Co-Head Shri Anand Trivedi, Mandal President Shri Jitender Singh Rana, Shri Anupam Pandey, Master Satyapal, Shri Raj Kumar Jha, Shri Tejpal Singh alongwith several respected persons, Officers of the Corporation and large numbers of residents of the area were present in the programme.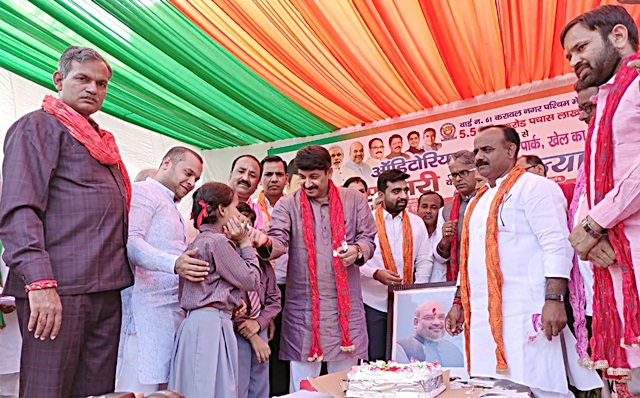 Addressing the people on this occasion, Delhi BJP President Shri Manoj Tiwari said that about 56 months ago, Arvind Kejriwal made many promises to the people of Delhi and got the mandate of the people whereas two years ago, BJP won the Corporation Elections on the basis of good governance, transparency and development of basic amenities. Today, when I am laying the foundation of two development works, I find great difference between the methods of working of these two. Kejriwal had promised of opening 500 new schools at the time of elections. He could not construct a single new school even after 56 months and contrary to it, the EDMC had won the hearts of the people by completing many historical works in spite of financial crunch.
Shri Manoj Tiwari said that today is the Birthday of the Chanakya of today's politics and Loh Purush Home Minister Shri Amit Shah and hence we selected this day for laying foundation of these development works at the cost of crores of rupees for public welfare. BJP is taking forward the campaign of public welfare under his leadership and crores of party workers are following him by taking all the sections together for the development of the country.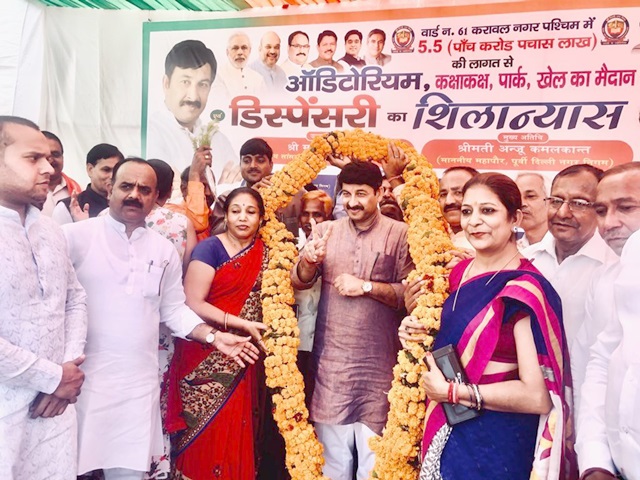 Shri Manoj Tiwari further said that when a tea vendor became the Prime Minister of the country, he took care of crores of poor families whose family members were dying due to poverty and lack of medical care. Aayushman Bharat Yojna has been implemented to provide medical care of 5 lakh rupees to such needy persons. A large number of people are entitled to this scheme in Delhi but they are not getting the benefit because Kejriwal had created hindrance in it. We laid the foundation of many buildings and their construction were completed and dedicated to the people. We are also constructing many other facility centers whereas during the last 56 months, Kejriwal has only befooled the people. Crores of voters of Delhi have made up their mind to bid adue to Kejriwal Government. The people are of the view that "Desh Ke Saath Dilli Chale, PM Shri Modi Ke Vikas Se Desh Ki Rajdhani Jud
On this occasion, former Chairman of Standing Committee Shri Satyapal Singh said that every worker of BJP understands the sufferings of the deprived people. Hence, the EDMC is working continuously to solve the problems of the residents of this area. He also said that under the leadership of Shri Manoj Tiwari EDMC not only succeeded in winning the elections but also completed many stalled works with the help of financial assistance from Shri Tiwari's MP fund.