(Dwarka Parichay News Desk)
Gwalior: 19th January,2019: Inspiration from Anywhere.Blooming the flowers in desert. That's how an inspiration works. Be honest & truthful. It can create miracles.
Succeed, come what may.MS Talks India founded by Author Sherry who is working extensively in the field of personal growth and human development.
MS Talks is providing opportunities to aspiring speakers to share their real life stories and remove stage fright and start their journey with presentation literacy.
Author Sherry, Founder President, MS Talks India in association with the Institute of Professional Studies (IPS) Gwalior organised a Public Speaking Conference at the campus of IPS Gwalior with the sole objective of inspiring the youth of IPS ( A Group of Colleges).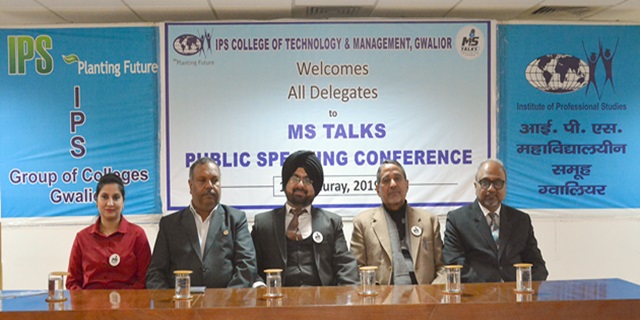 Achievers in their respective fields gave a spellcasting account of their journey before the students and faculty of IPS drawn from Science Technology & Education stream. S.S. Dogra from the Media World ; Dr Kataria from Academic world, Ms. Ranjeeta Ashesh from Army family background, Ms Pooja from Graphalogy Science gave inspiring speeches before the jam packed hall of 300 plus audience.
Ms. Nancy Juneja Communication Strategist and Founder Rev Up Life Skills Unit from Delhi made a deep impact on students by her talk on the Science & Art of Personality Presentation Skill for winning and sustaining a career or vocation. The enthusiasm and involvement of the students in that particular season was amazing.
Each five speakers casted a lasting impression on the audience. In between these inspiring talks, the Katyal dancing performance of Garfield & live singing performance of Shani Khan appreciated by one & all present in the auditorium.
In a leaveless flowerless fruitless tree MS Talks India germinated the seeds of Positive Thinking and Right Approach in life. MS Talks has a singular purpose 'Inspiration from Anywhere ' It heralded a new Inspirational Flag in IPS Gwalior.
Grow flowers of inspiration in you, their fragrance will travel with you and fragrance is always contageoeus. It's the best offering to your teachers, mentors and parents.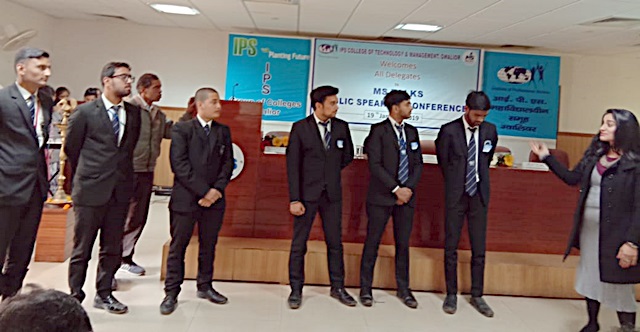 Thanks to IPS Management and its whole faculty and team MS Talks for coming together in making New India – "भारत उदय।"
Special thanks Dr Premanand Chauhan Sh. Mudgal Sh.Ghosh Sh.Purushottam and all the students & volunteers of IPS, in creating a history in their march towards success.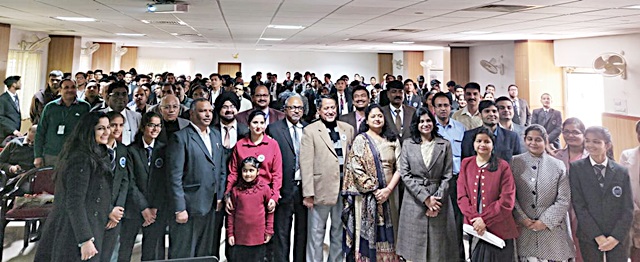 Ms Kulvinder Kaur anchored the whole event efficiently.MS Talks acknowledged & appreciated the event sponsors AIPL Brand Buzz,AMB Sahyog , Media Partner Dwarka Parichay,.
With the blessings of ms Talks India Patron Jolly Uncle and vision of its founder Author Sherry, MS Talks India gracefully moving towards the mission of inspiration, presentation literacy and public speaking.