Shriram Automall India Limited (SAMIL), India's Largest Physical and online Marketplace for Pre-owned Vehicles and Equipment, was awarded CX Technology Implementation of the Year 2022. The Award was received by company officials on 23rd November 2022 during the Conference which was held at an event in Gurugram .
SAMIL won the stage with the implementation of 'One India One Click' model of buying & selling used vehicles and 'ThePriceX,' a price prediction engine. Since the execution, a continuous improvement in the customer experience is being achieved by providing enhancements in the service and the price tool. It proves that, SAMIL has a robust Customer Service Team at work and is dedicated for refining customer experience at all stages of business.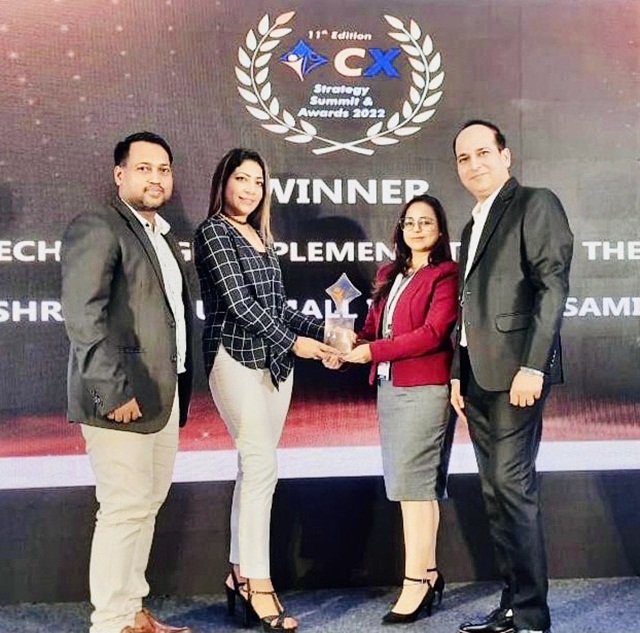 Through the One India One Click model, any customer can purchase a used vehicle or equipment from anywhere in India from 120+ Automalls right from the comfort of their home. This solves many problems such as unavailability of the preferred vehicle in a specific location as customers can now search the whole country for their choice of vehicle and all together save on traveling efforts, cost & time. At the same time customers can participate in multiple Physical Auctions in different states using this service on My SAMIL App.
'One India One Click' model of buying and selling pre-owned vehicles & equipment enables a seller from West (Ahmedabad) to exchange his/her vehicle registered in East (Nagaland), parked in a yard in North (Manesar) to a buyer from South (Bangalore) and vice-versa.
ThePriceX acts as a guiding tool, helping buyers and sellers find the right market price for their used vehicles & equipment ensuring a more profitable transaction. ThePriceX is built to provide solutions for pre-owned vehicle market through, machine learning, artificial intelligence and statistical modelling backed by a decade worth of auction data in multiple vehicle categories.
Sharing his views over the Award, Sameer Malhotra, Director & CEO, (SAMIL) said: "We are ecstatic as Shriram Automall India Limited bagged CX Technology Implementation of the Year 2022 Award at 11th Edition of CX Strategy Summit & Awards. This award proves our prowess in the customer service & experience arena when compared with our competitors. Our easy-to-use Phygital auction platform, intelligent price prediction tool, transparent processes, best-in-industry reward program, allied services and hassle-free transactions lead to excellent customer satisfaction through state-of-the-art Phygital, Online and Physical Auction platforms. We are dedicated to provide best customer service to all our esteemed customers."
ABOUT SHRIRAM AUTOMALL INDIA LIMITED (SAMIL):
Shriram Automall India Limited (SAMIL), an ISO 9001:2015 certified company, is India's leading Marketplace connecting pre-owned vehicles and equipment buyers and sellers. SAMIL began its journey in 2011 by setting up India's first professionally managed and organized Auction Platform for buying and selling pre-owned cars, commercial vehicles, construction equipment, farm equipment, three-wheelers, two-wheelers, etc.
Backed by CarTrade Tech Limited and Shriram Transport Finance Company Limited, SAMIL has over 1,500 employees and more than 120 Automalls across India. SAMIL conducts thousands of auction events every month through its online platforms cartradeexchange.com and bids.samil.in and its Phygital platform (Automall). SAMIL also provides vehicle inspection and valuation services through Adroit Auto, innovative car buying and selling experience through BlueJack, and industrial auction of properties, plant and machinery, commodities, and scrap, salvage and surplus assets through 123done.in.