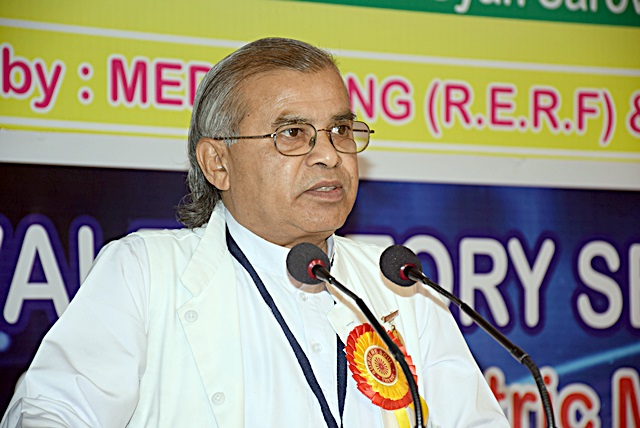 On the theme of "Value-Centric Media – The Call of Time" the Valedictory Session of the Media Conference-cum-Retreat, 2019 commenced on 15th June, 2019 at 10.00 am with offering of bouquets and badges to the guests on the stage. Kumari Shilpa, Divine Angel Group, Belagavi (Kar.) performed the welcome dance on the song "Sansar ho hara bhara". B.K. Komal, Editor (News), Peace of Mind, Shantivan, welcomed the guests and speakers on the stage and the audience off the stage, saying, "Man, today has almost turned to demon as a result of which the human, social and familial values have completely deteriorated. Media persons can play a major role in checking this downward trend of values. Dr. B.K. Yudhishthir, Associate Editor, The World Renewal, English Magazine, Brahma Kumaris, Shantivan, while delivering the keynote speech, said, "Media at present has gone away from the values-led track as a result of which media persons have been compelled to focus on negative journalism and are displaying the darker sides of life such as gossips, blame game, cinema, celebrity, ultra-fashions, glamour, sensuality, sensationalism, immorality and obscenity. This has negative impact on our youths and people as they have been exposed to incidents of crimes, rapes, murders, corruptions, scams cut-throat competitions, vices of lust, anger, greed, ego, etc. and are being involved in them, thereby leading them to hellish state of existence. The urgent need is that media should be value-centric; and media persons can be value-centric only when they inculcate values, spirituality and practise Rajyoga Meditation." He also read out ten major benefits of value-centric-media.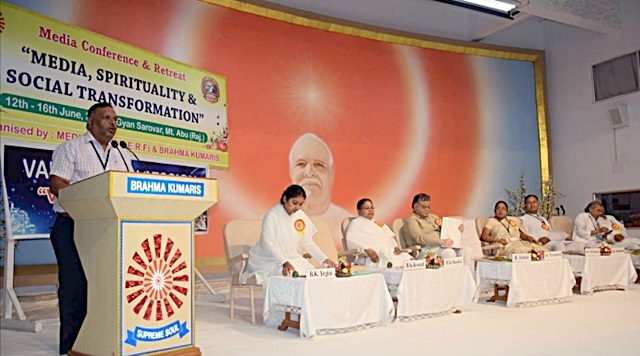 Dr. Bharati Bala Patnaik, Principal, College of Communication, SMIT, Berhampur (Odisha), while relating her personal experience, said, "Only after coming in contact with Brahma Kumaris Organization (BKO), I really understood the meaning and importance of Spirituality and Self-analysis. Value is a motivating belief and it is associated with human thought process." She also defined social, moral and cultural values and insisted that media can play a great role in making the society and people values-based. Dr. B.K. Niranjana, sub-zonal coordinator, Media Wing, Vadodara, while delivering the words of blessings, said, "During three days of discussion, it is clear that media have become valueless. In order to inculcate values and spirituality, we have to know our real spiritual identity and change our consciousness from body-consciousness to soul-consciousness."
B.K. Sushant, National Coordinator, Media Wing, Delhi, read out the action plan, conclusions and pledge of the conference, which were passed by the media persons, who were made to take oath by S.S. Dogra, Bureau Chief, Author and Reporter, Himalini monthly Nepal-based magazine, for following them.
Bro. Rajesh Asnani, Senior Asstt. Editor, New Indian Express, Jaipur, said, "Today, it is a difficult time for media, because the value system and the role of accountability in media have been almost finished. Brahma Kumaris Organization (BKO) is the only spiritual organization in the world, which is teaching about values, spirituality, Rajyoga meditation, thought and action management and sanskar reformation. If media persons can assimilate these values, spirituality and practise Rajyoga meditation, they can surely succeed in their personal, social and professional life."Sister B.K. Sunita, Zonal Coordinator, Media Wing, Delhi, through her powerful commentary of guided meditation, enabled the gathering to experience deep inner peace of mind by transporting them to the metaphysical Soul World, Nirvandham.B.K. Nathmal, Zonal Coordinator, Media Wing, Cuttack (Odisha) offered vote of thanks to all guests, speakers, whole audience and the servers of various departments with loud clapping from the whole gathering. Sister B.K. Yogini, Coordinator, Media Wing, Ajmer, coordinated the stage activities very successfully. At last, the guests were honoured with offering of shawls, spiritual literature, gifts and sweets.