The 44th Matri Shree Media Awards were presented today to the journalists and artist serving for the cause of democracy fearlessly. In a simple ceremony held in Abhishek Cineplex Chandni Chowk, Aayushman Khurana starrer film Badhai Ho was presented the Bharat Mata Shield. This film was also exhibited in this programme.
Commending the journalists awarded prizes the Convener of Award Committee & Chief Editor Matriswar Shri Dinesh Sharma said that the role of the media is very challenging in the task of guiding the nation and improving the conditions of the nation. This award was first of all presented to the the Martyr Journalist Lala Jagat Narayan the Bharat Mata Shield. In the presence of Working President of Punjab Kesari Delhi Shri Swadesh Bhushan Jain and the Chairman of the Committee Ashok Aggarwal, Harish Chopra, Ankush Aggarwal, Chetan Sharma, Ramesh Bajaj, Vishal Rana and Kailash Agrawal etc. presented shield and pen to the journalists. In addition 29 journalists from Print & Electronic Media and one social activist were presented the Bharat Mata Shield.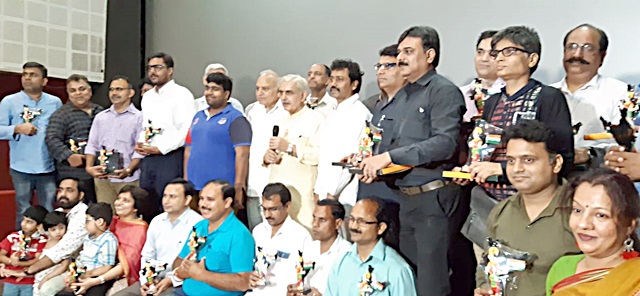 The journalists, whose names were announced, are Senior Journalist Sarvottam G Mahatha Jaipuriyar from PTI, Senior Journalist Namita from Bhasha and Agraj Pratap Singh from UNI, Jitender Kumar from Univarta, Poonam Gaur from Navbharat Times, Ravi Bhushan Dwivedi from Sandhya Times and Kunal Kashyap from Punjab Kesari, Sandeep Ashwario Chief Cartoonist from Times of India. Former Mayor of North Delhi Municipal Corporation Shri Adesh Gupta was also awarded for social service. Sajjan Chaudhary from Dainik Hindustan, Photo Journalist Durga Pasad Mishra from PTI, Correspondent Rajeev Ranjan Roy and Cameraman Rahul Singh from ANI agency, Senior Journalist Sanjeev Gupta and Photographer Paras from Dainik Jagran, Senior Reporter Dheeraj Bainiwal from Amar Ujala, Vinod Mani Gautam from Hari Bhoomi, Minhaj Ahmad from Hamara Samaj (Urdu), Video Journalist Dilip Awathi from India News, Soorvir Singh from Total TV, Photo Editor Shailender Pandey from Rajasthan Patrika, Prem Singh from MH One TV, Ranjit Singh from Aajtak TV, Arvind Kumar Sharma from Dharm TV Website, Senior Journalist Vishnu Sharma from India News and Shailesh Giri for Best Film PRO. In addition the selection committee approved the names of Vijay Kumar Togah from J&K and Gulistan News, Film Critic Vijay Kumar Shandhya Mahalaxmi Bhagyauday, Praveen Arshi from Shagufta TV Times Hindi Varta and Senior Writer S S Dogra. This award was started in the emergency period in view of the fighting spirit of the Journalists Rajesh Khanna from Total Khabren.
This award was started during the Emergency in view of the atrocities against the Journalist and their fighting spirit. Martyr Journalist Lala Jagat Narayan was presented the Bharat Mata Shield by Senior Political Leader of Delhi Prof. Vijay Kumar Malhotra. Our slogan is – 'Lekhani jo satta ki dasi nahi rahi – sarkari inamon ki bhi pyasi nahi rahi – ye swabhiman apna jagati hi rahegi aur naqab gaddaron ke uthati hi rahegi.' Badhai Ho will also be exhibited in the function.