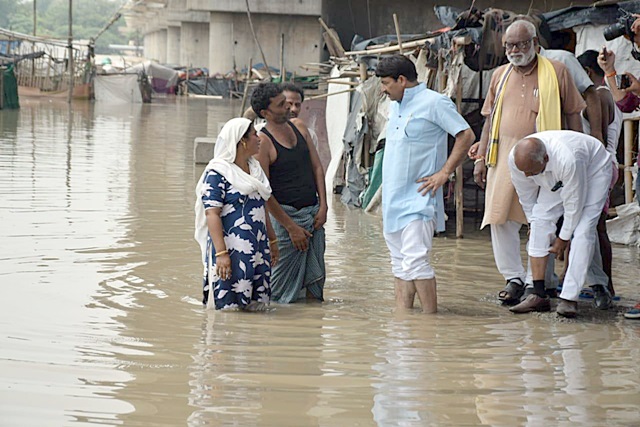 Delhi BJP President and North East Delhi MP Shri Manoj Tiwari today visited the flood affected Kisan Basti, Gaon Purana Usmanpur and Gadhi Mandu etc. areas and inquired about the condition of the people besides taking stock of the Government arrangements. In spite of floods many people were seen staying in the Jhuggies at great risk. Shri Manoj Tiwariwent inside the flooded area and on loudspeaker appealed to them to go to safer places. The flood affected people complained about scarcity of food, tents and other basic amenities on which Shri Manoj Tiwari assured of solving them immediately.
Media Department Co-Incharge Shri Neelkant Bakshi, Co-Head Shri Anand Trivedi, former MLA Shri Kapil Mishra, EDMC Education Committee Chairman Shri Raj Kumar Ballan, Zone Chairman Shri Pravesh Sharma, Councilor Shri Punit Sharma, Shri K.K. Aggarwal, OBC Morcha Pradesh Vice President Shri U.K. Chaudhary, Ch. Sugreev Singh, District General Secretary Ch. Bhanwar Singh alongwith senior officers of the District and Police administration and Party Office bearers were present on this occasion.
After returning from the visit, talking to the Media Persons, Shri Tiwari said that whenever Delhi is flooded then the Delhi Government rises from its slumber and spends crores of rupees on usual arrangements which clearly shows how much the Kejriwal Government is sensitive towards the common man. Demanding rehabilitation of thousands of families living in the flood plains of Yamuna, he said that Delhi Government should find permanent solution of this problem.
Shri Manoj Tiwari also appreciated the work being done by the MCD, District Administration and Disaster Management officials and also directed them to overcome the hindrances in the relief work. He also called upon social organizations to help the flood affected people. He said that if Delhi Government works seriously to rehabilitate the persons living in the flood plains of Yamuna then the homeless people will get homes and the Yamuna River may also be saved from the garbage and filth coming out of the colonies within the flood plains.