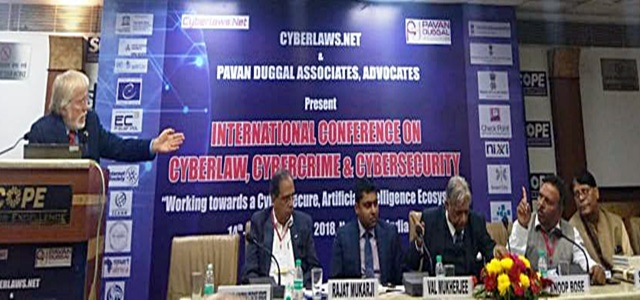 (Dwarka Parichay News Desk)
New Delhi: 15th November, 2018.In the heart city of Indiia, One extraordinary conference is going on. The title of this International conference is CyberLaw, CyberCrime & CyberSecurity. This three days (14th to 16th Nov.,2018) International Conference being organized by Cyberlaws.Net & Pavan Duggal Associates. Dr. Pavan Duggal-(the organizer & Author) informs Dwarka Parichay that "working towards a Cyber Secure,Artificial Intelligence Ecosystem" is the main of this conference. Dr. Pavan Duggal is a renowned Cyber Expert & dedicated lawyer in Supreme Court who authored more than fifty books on Cyber World. More than 500 hundreds delegates from seventy countries participating In this three days International conference particularly focusing on Cyber World. Around 52 session of different agendas were held during this Cyber World Conference.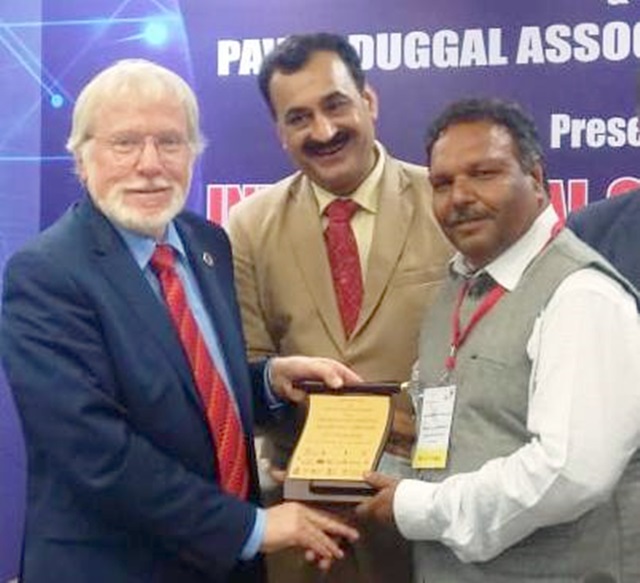 "Wherever you move, there is news, its up to you how you view and review. Quote Mr. S.S.Dogra in an interactive session-19 of the said Conference. As an Author-Speaker in the International Conference on Cyber World-The Agenda is "FAKE NEWS & ITS REGULATION". Mr.S.S. Dogra is a senior Journalist-Author-Filmmaker & Managing Editor of Dwarka Parichay Media Group. Mr. Dogra suggested that being Journalist, it is our duty to write honestly, authentically & transparently whatever, wherever for whomsoever, we are working. He further added that Authenticity & Credibility are the major key-factors of your identity. Journalism is a noble profession, so, all the media person should follow the ethic of pure journalism to get trust, credibility & popularity from the stakeholders& general public. Mr. Dogra raised an important issue during his speech, he pointed out that Indian Information Technology Act, 2000 should be evaluated again. Mr. Dogra further suggested that "Indian Information Technology Act, 2000 need to be reviewed again & immediate amendment in it can stop the flow of fake news & bring back peace & prosperity among the society.

The above mentioned session was Chaired by Prof.Dr.Christoph Stueckelberger-Author & Executive Director, Globethics.Net Geneva, Switzerland. In this session, Mr. Rajat Mukharji-Chief Corporate Affairs Officer, Idea Cellular Ltd., Anoop Bose- Senior Advocate, Smita Narayan, Founder,Global Transformation & Influence, Val Mukharjee-Chairman & Founder, Cyber Future Foundation & Constituents & Veteran Journalist Sh.Tillan Richharya ji – panelists also expressed their views on the said agenda.


A Media book of S.S.Dogra, titled "Media Can Do Wonders in Students' Life" was also launched by Dr. Pavan Duggal along with Prof.Dr.Christoph Stueckelberger, Mr. Rajat Mukharji, Anoop Bose, Veteran Journalist-Tillan Richharya, Smita Narayan, Saakshar Duggal, Pranjal Srivastava & Val Mukharjee in the concluding session of the said agenda. Dwarka Parichay is the Official Media Partener of this International Conference on Cyber World.
(Photo: Pranjal Srivastava)