JM International School, Dwarka had organized a path-breaking event, RHETORIA –The Inter School Fest to encourage the healthy competitiveness amongst students. It was piloted through a fun-learning means where students were given a harmonious and vigorous environment to showcase their best in the presence of all the participative schools across Delhi. J.M International School beheld an overwhelming number of school's participation across Delhi in the Fest- RHETORIA.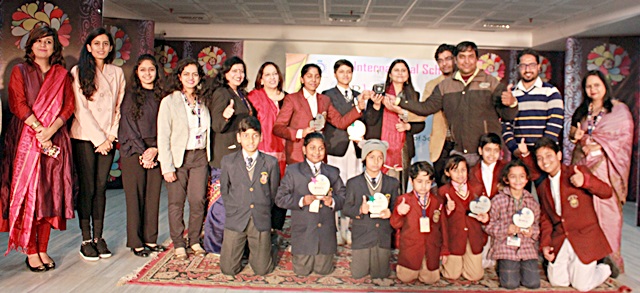 The competitions were broadly divided into different endearing themes where students could excel in their respective area of expertise. Grade from Nursery to V worked upon Art Compositions with Stick Figures, Texture Painting / Dot Painting/ Geometrical Figures and Folk Art of India. Grades VI to VIII in Kavita Ki Awaaz and Poetry in Voice. Semi classical singing TARANA: Singing from the Heart remained the highlight of the day. The format and purpose of the fest was to support young minds flourish in novelty. JM International School ensured that students irrespective of bagging positions in the competition, learn the spirit of participation.
The Occasion was graced by the expert judges Ms. Simaraarja Pahwa, Ms. Garima Shokeen, Mr. Ishmat Singh, Graphic Designer & Illustrator from College of Arts for Various Art Competitions
Ms. Renu Anand an experienced author and teacher trainer for Poetry in Voice, the English poem recitation.
Mr. Akshaya Vashishth from Saras Prayas for Kavita Ki Awaaz, the Hindi poem recitation.
Ms. Swarn Vij, a highly graded artist in All India Radio, for TARANA: Singing from the Heart.
The fest came to a prolific end with an inestimable learning for students. RHETORIA was a huge success with the efforts driven by School Principal, Students and Teachers.