On 26th Nov.21: (Dwarka Parichay News Desk)One of the most prestigious awards, "Rise & Shine Women Awards 2021" was organized under the successful leadership of MENTORx Global & Rising Women at The Leela Ambience, Gurugram. The theme of the event was to celebrate all the incredibly strong women in life coming from different fields.
The Chief Guests, Dr. Munish Jindal, Founding President MENTORx, Dr. Nancy Juneja, Global Chairperson, MENTORx Women, and Dr. Sangeeta, National President MENTORx Women, along with the Guest of Honors Lady Singham S.I. Kiran Sethi and IRS Aman Preet, Mrs. Asia Pacific Exquisite International USA Ms. Shivani Sharma Singh, Actress Ms. Manya Pathak, and many other esteemed personalities gathered under one roof to discuss all the Rise of Women and support provided by MENTORx Women.
The event began with the Auspicious Ganesh Vandana by Miss Sneha Sujith Kumar, Bharatanatyam, and Mohiniattam Dancer, and the Lamp lighting ceremony followed by a welcome note by MENTORx founders who elaborated the philosophy of MENTORx being handholding support for all and the vision and mission of MENTORx Women, a global solidarity initiative to recognize honor and celebrate women. MENTORx is thriving in 65+ countries and expanding in 200+ countries around the globe.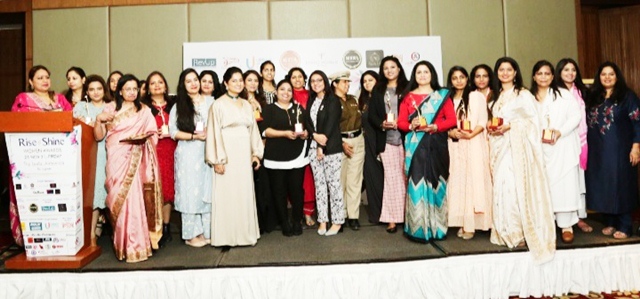 Achievers from varied fields such as education, entrepreneurship, health care, social work, philanthropy, creative arts, service, astrology, media, and performing arts came to inspire with their success stories. The event partners were HoverRobotix, RevUp LifeSkills, Meavika Jewelz, Urban Interiors, Advert Archive, Shanti Gyan Niketan Sr. Sec School, Shanti Gyan Vidyapeeth School, Divya Jal, and Patanjali Atta Noodles, along with the Sponsors like TONCHIN, GEM Mines, K2R World Tour & Travels, THE POPSICLES Early Learning Centre, Smriti's ChocoHouse, Tarot Speaks, Shree Naari, PINQ, Pachouli Beauty & Wellness Clinic, Jagson Travels Pvt Ltd & Juhi Arora & Associates.
All the renowned Keynote Speakers and Awardees grace the show, including Ms. Varhsa Jain, Dr. Manisha Kaushik, Dr. Payal Garg, Ms. Kanika Chawla, Ms. Seema Bali, Ms. Richa Mongia, Ms. Ayena Gupta, Dr. Deepshikha Agarwal, Ms. Anju Choudhary, Ms. Bhawana Mittal, Ms. Anju Kwatra, Ms. Shreya Kansal, Ms. Ayushi Singh, Ms. Rajni Aneja, Ms. Uma Balan, Ms. Mamta Rajput, Ms. Mrs. Kajal Banerjee, Dr. Kanchan Singh, Ms. Riya Yadav and many more.
The event concluded with the global launch of the Book "New Age Life Skills: Creating Success in Digital Age" By Dr. Nancy Juneja, Co-founder, MENTORx Global. She did a book review and hosted a panel with esteemed panelists amongst a fleet of women entrepreneurs sharing her 20+ years of experience, to sum up, all the learnings of her life in 14 different skill sets. Dwarka Parichay was the online media partner of this prestigious event.