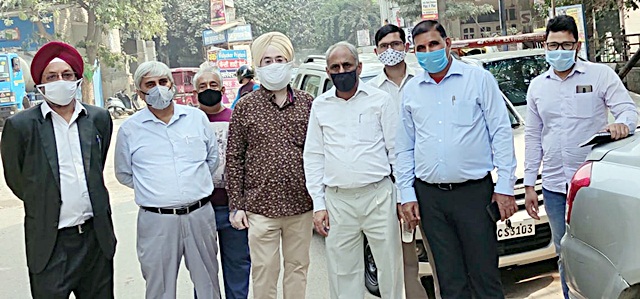 Delhi Development Authority (Officials of WD-12) & Dwarka Forum (Volunteers) jointly conducted a survey of Sector-8, Dwarka, New Delhi on Saturday, the 7th November, 2020. Started from A.P.J. School of Management, Dwarka and covered maximum area of Sector-8, Dwarka, New Delhi. Besides members of Dwarka Forum, good number of area residents participated in the survey and briefed the issues of their area.
The major issues raised by the residents were: urgent need of carpeting of certain main and internal roads, Installation of direction boards, repairing of un-even footpaths at several places, replacement of broken slabs, poor condition of vacant plots, installation of Street light particularly at dark spots etc.
The residents also requested for maintenance of Parks, development of water body in C-Block and pruning of trees, particularly those covering street light poles etc. Further, residents requested for construction of Shopping Centres (already ear-marked by DDA in Blocks A & D), development and beatification of Mother Dairy Chowk and also Chowk (near Sector-8 Metro Station). It was also requested for construction of round about, in place of two (very near) traffic signals opposite Sector-9 Metro Station.
The area residents also requested for an alternative road from institutional area to residential plotted area (adjoining to CRPF Battalion) etc. The team was consisted of Shri Lakhmi Chand- Executive Engineer with Shri S. K. Kaushik – Assistant Engineer & Shri Ashish Yadav – Junior Engineer (from DDA) and Shri A. S. Chhatwal – General Secretary with some other members of Dwarka Forum. The prominent residents of the area participated in the survey were Shri Amit Kumar, Shri Gurmeet Singh, Shri Ravi Mahendirata, Shri C. S. Solanki, Shri Parvinder Singh, Shri Munish Girdhar, Shri Y. P. Sharma, etc. All the issues raised by the residents were properly noted by DDA officials. The Executive Engineer, DDA assured to take suitable action on priority.