Hon'ble Governor of Uttar Pradesh Smt. Anandiben Patel's had a three-day visit to the Parmarth Niktan Ashram, Rishikesh. She was cordially welcomed by HH Pujya Swami Chidanand Saraswati ji. Her visit coincided with the completion of Navratri – the nine day festival in the Hindu tradition honouring the divine feminine energy.
Hence, she celebrated Navami and Vijayadashami at the Ashram with sacred fire-ceremony (morning yagya) and the world-renowned Ganga Aarti at the Ashram. The special Dussehra Ganga Aarti at Parmarth Niketan also welcomed Attorney General of India Shri Kottayan Katankot Venugopal and he spoke about how much he cherished the spiritual experience the Ashram offered and how he looks forward to returning back.
During her three day visit, the Hon'ble Smt Anandiben Patelji met with Pujya Swami Chidanand Saraswatiji extensively and conversed with Him on a host of important and innovative initiatives ranging from women and youth empowerment, water conservation, improved WASH (Water, Sanitation and Hygiene), green technologies, environmental preservation and more.
The visit and her stay at the ashram showcased various projects and initiatives that were flourishing and thriving under the able and visionary leadership and inspiration of HH Pujya Swami Chidanand Saraswatiji (Pujya Swamiji), some of the highlights presented below: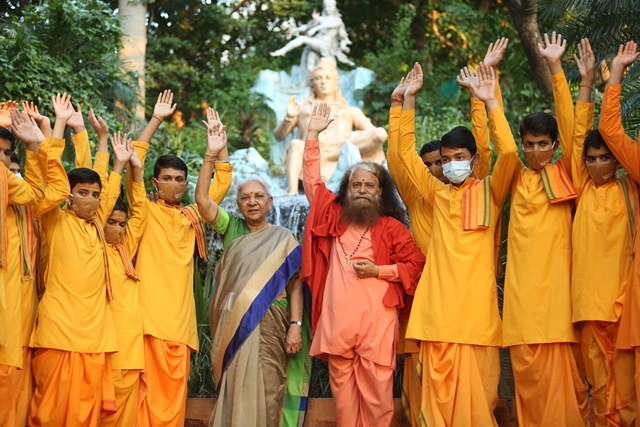 Presentation of LifeSkills Education Publications on Menstrual Health, Sexual Reproductive Health, Faith Perspective on Equality and Justice & Government Schemes for Youth & Women by the Global Interfaith WASH Alliance in partnership with UNFPA
Special publications prepared by the Global Interfaith WASH Alliance, founded by Pujya Swamiji as the world's first interfaith initiative to bring together the world's many faith traditions to work together towards an expanded definition of peace, one that includes improved Water, Sanitation & Hygiene (WASH), gender equality, women and youth empowerment and environmental preservation.
These publications were launched under GIWA's Life Skill Education partnership with the United Nations Population Fund (UNFPA). The brochures presented were on Menstrual Health, Sexual Reproductive Health, Faith Perspective on Equality & Justice and on Government Schemes for Youth and Women. Youth from nearby slums were brought together on the occasion to have a special interaction with the Hon'ble Governor and Pujya Swamiji, presenting the new publications for their review and blessings.
Visit to the World Toilet College in partnership with Harpic- Banega Swasth India, Reckitt and Jagran Pehel
She visited the first ever World Toilet College in the Parmarth Niketan Ashram premises, in partnership with Harpic-Banega Swasth India, Reckitt and Jagran Pehel. There she was explained about the motive behind this College, which included capacity development of Sanitation Workers towards improving their skills, health and hygiene during the course of their work. The efforts are to ensure that no one is left behind and the empowerment of the regions Sanitation Professionals. She was impressed to see the initiative and offered her suggestion to bring together the areas District Magistrates alongside the Sanitation Workers and to apprise them of the needs of these frontline workers as well as to allocate sufficient resources for their health and safety.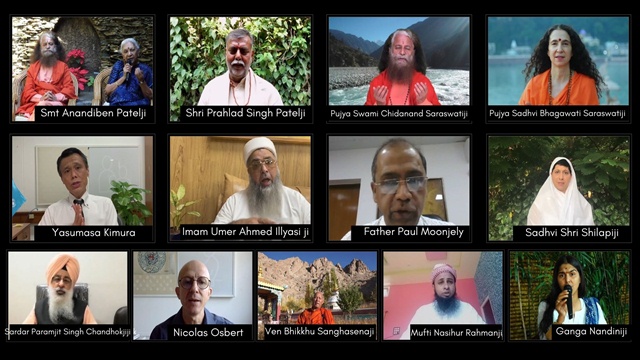 Inauguration of the Global Handwashing Day Webinar & WASH facilities in 100 GIWA's WaterSchools
On the important occasion of Global Handwashing Day (15th October), the Global Interfaith WASH Alliance (GIWA), in an esteemed partnership with UNICEF, together with Parmarth Niketan, hosted a special webinar to raise awareness around and reignite action for handwashing. The theme of this year's webinar was "Our Future is at Hand — Let's Move Forward Together" wherein focus on hand hygiene is a catalyst and fundamental component of health and public safety.
This unique webinar was inaugurated by Hon'ble Governor of Uttar Pradesh Smt Anandiben Patelji and HH Pujya Swami Chidanand Saraswatiji, Founder, Global Interfaith WASH Alliance, President, Parmarth Niketan, Rishikesh, the Mr. Nilesh Kumar, Chargé d'Affaires for Fiji High Commission to India, the Hon'ble Minister of State Jal Shakti Shri Prahlad Singh Patelji in addition to eminent faith leaders of India representing the Hindu, Muslim, Christian, Sikh and Jain traditions.
In addition to all of these respected leaders inspiring messages, a beautiful presentation of the 100 schools wherein this GIWA has worked to implement WaterSchools programme was shared with the Hon'ble Governor. She was glad to inaugurate and learn about the toilets and handwashing stations that were completed in 40 of these schools and the many more underway.
Preview of the Divine Shakti Foundation's Parmarth Nari Shashakti Kendra Initiative for empowering women towards sustainable livelihoods
Next she visited an exhibition displayed by Divine Shakti Foundation 's Parmarth Nari Sashakti Kendra in collaboration with Serene a startup company from Ahmedabad. She learned about the work that is happening in the Center of Excellence & Training of women as well as the recent completion of a 10-day advance stitching training workshop. Her excellency was glad to see the various garments and shared that government funding for these projects were available and could be utilized for these efforts. The ladies of the Centre presented her with a handmade bag exclusively made for her.
Preview of the Girl Power Project Initiative by Divine Shakti Foundation and Just Like My Child
She also previewed the work of the Girl Power Project of the Divine Shakti Foundation which was soon to be launched in Rishikesh for empowering young girls to be the change they want to see in their societies. The initiative is in partnership with Just Like My Child.
Green Technologies for a Sustainable Bharat and a Clean Ganga
The Hon'ble Governor also discussed with Pujya Swamiji various pilot plans that He had inspired across the Nation and His innovative efforts to bring together green technologies to protect, preserve and conserve the National River Ganga. She shared that the decentralized Wastewater Management, Solid Waste Management technologies and Agriboard Technology she personally would like to implement in Uttar Pradesh as well.
She enjoyed the evening Ganga Aarti and shared her experiences and learnings from her extensive service to the Nation. Pujya Swamiji shared so many unique facts and incredible achievements of her leadership and honored her with a sacred Rudraksh sapling, which would be planted in the premises of Governor House in Lucknow in a remembrance of her visit.
She met with school principals, teachers, students alike to share inspiring stories and experiences of her life and deeply inspired the women and youth to be the change they want to see in the world.
As she departed offering new dhotis and kurtas to the Ashram's young Rishikumars she was warmly invited by Pujya Swamiji to celebrate her 80th birthday which falls on 21st November in Rishikesh. Pujya Swamiji shared that her life and her incredible leadership is an inspiration to the nation and to the world. She also planted a sacred Rudraksha sapling in the Rudraksh Vatika in Parmarth Yoga Garden and left the ashram with beautiful memories of her visit. Whilst the Ashram members, devotees, students and pilgrims were showered by love and respect for her, cherishing every minute and moment of her three day visit, she departed leaving them in anticipation of her next visit.