N.K.Bagrodia Global School, Dwarka, celebrated its second Annual Day titled 'Kaarwan- A Musical Dance Rendition'. The show witnessed a plethora of performances showcasing the creative talent, skills, spirit and zeal of the children.
The event was presided over by the Chief Guest Dr. Anup Kumar Rajput, Professor of Mathematics, former Head-Elementary Education, N.C.E.R.T, Guest of Honour Dr.S. C. Sharma, Consultant Critical Care Medicine and Transplant Co-Ordinator, Sir Ganga Ram Hospital and,our reverend Chairperson ma'am Smt. Pushpa Devi ji, Shri Raghav Bagrodia, our esteemed trustee members Shri. K.K Dhanuka Ji, Shri Dinesh Kumar Gupta Ji, our Admiral Director Shri. S.K. Bhattacharya and our Vice Principal Mrs. Jaishree Nawani and other dignitaries. The evening commenced with lighting of the lamp followed by an invocation to the Almighty.

Director  Mr. S.K.Bhattacharya welcomed the august gathering. The second edition of school's magazine "Oasis- The Global voice" was released by the Chief Guest. Our school Vice Principal  presented the annual report highlighting the achievements of the school and students. She emphasized over the school's commitment to high educational standard as well as artistic endeavors to ensure holistic development of children. Achievers were felicitated with the trophies Students exhibited their talent by weaving a wonderful tale about the genesis of music.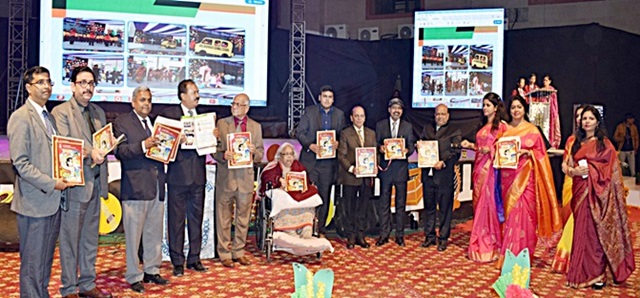 The budding stars mesmerized the audience by depicting power and beauty of music through their enthralling performances. The audience was in raptures after the performances. The programme concluded with vote of thanks by the incharge of Secondary Department Mrs. Ekta Chawla.