Apeejay School of Management (ASM) organised its 12th National Conference on Contemporary Management Research themed 'Managerial Practices for Sustainable Growth, Development & Innovations' in online mode. Delegates from various institutions and universities across the country participated in the conference to present their research work.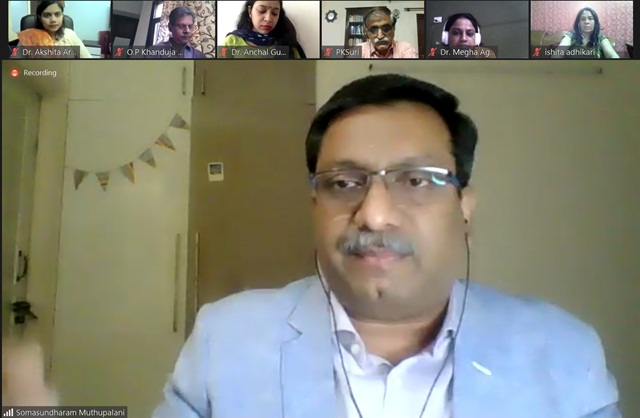 Mr. O.P Khanduja, Executive Director, Apeejay School of Management, welcomed all the participants and esteemed faculty & students of ASM. Speaking on the occasion, Mr Khanduja emphasized the need for linking research with emerging needs of the industry, especially in wake of the worldwide spread of the Covid-19 pandemic.
Sharing his perspective on the conference Dr. Etinder Pal Singh, Director, ASM observed that over the years, National Conference on Contemporary Management Research has emerged as an effective forum for academics as well as practicing managers to discuss the issues, challenges and opportunities in the contemporary management research. He talked about the current crisis going in the country and shared his views on the way forward. He emphasized on the importance of meaningful and impactful research with policy implications.
Among the major institutions from where participants joined the conference were Delhi Technological University(DTU), University of Jammu, University of Jammu, LBSIM, Amazon, Bikaner Technical University and NIFTEM.
Mr. Somasundharam Muthupalani, Managing Partner, Moments Group India, delivered plenary address and pointed out that inter-disciplinary nature of this conference will enable the presenters to look at the management issues from holistic viewpoint. Dr. P. K. Suri, Professor, Delhi Technological University, the guest of honor, presented the keynote address on the governance issues in the management research and shared his valuable inputs on the theme of the conference.
Dr. Sanjay Dhingra, Professor, GGSIPU and Dr. Akshita Arora, Assistant Professor, ASM, Dr. Shalini Vermani, Associate Professor, ASM and Dr. Anchal Gupta, Assistant Professor, ASM chaired two simultaneous technical sessions and facilitated healthy discussion. The conference came to a closure with the vote of thanks from conveners. Dr. Shalini Vermani, Dr. Anchal Gupta and Dr. Akshita Arora facilitated the conference as conveners with full support from their team of student volunteers.
About Apeejay School of Management: Apeejay Education established the Apeejay School of Management (ASM) in 1993. It strives to develop competent and relevant manpower for the twenty first century needs of trade, business, and industry. The School supports the various programs for enhancing the potential of individual students, enriching human values, upholding the Indian value system, all acting in union as a vehicle for growth at the national and international level, thereby making it a "student driven" institute of higher learning.
The Institute is offering two programs, i.e. PGDM & PGDM-Marketing. All programs are approved by AICTE. PGDM program offered by ASM is accredited by the National Board of Accreditation (NBA) & Association of Indian Universities (AIU) being equivalent to MBA Degree and accredited by ACBSP USA.