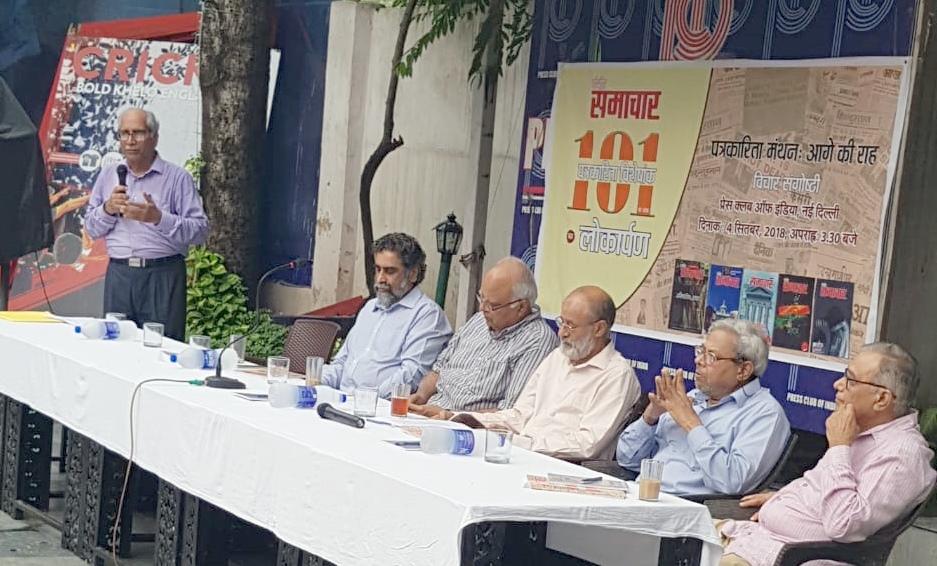 (Report & Photo: S.S.Dogra)

Recently, A Panel discussion Journalism-"The Path ahead" was held in Press Club of India. This wonderful journalism event was organised by Gambhir Samachar magazine on the occasion of its 101 issue. Political Editor of the above said magazine Shambhunath Shukl, Media Anaylist Prof. Sudhish Pachauri, Senior Media Personality Gauhar Raza, Senior Editor Om Thanvi, political Editor of Caravan magazine Hartosh Singh Bal shared their experience in the Panel discussion. The whole panel discussion was well moderated by Om Nichal. The 101st issue of Gambhir Samachar was also unveiled in the panel discussion.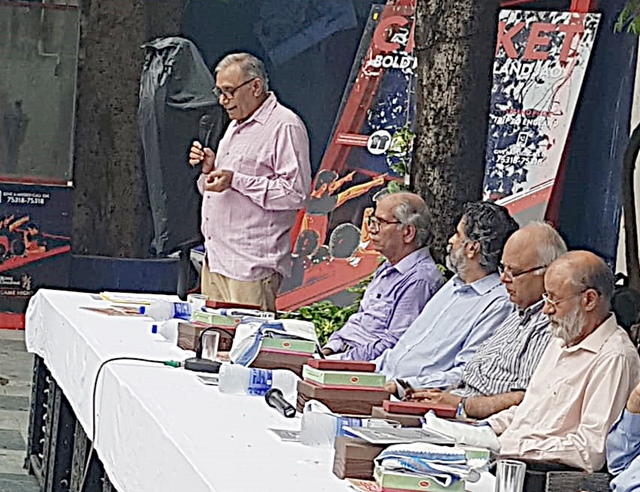 नई दिल्ली स्थित प्रेस क्लब ऑफ इंडिया में आयोजित संगोष्ठी 'पत्रकारिता मंथन:आगे की राह' में मंचस्थ वक्ता (बाएं से दाएं) गंभीर समाचार के राजनीतिक संपादक शंभुनाथ शुक्ल, मीडिया विश्लेषक प्रो. सुधीश पचौरी, साहित्यकार गौहर रज़ा, वरिष्ठ संपादक ओम थानवी, कैरेवान के राजनीतिक संपादक हरतोष सिंह बल व संबोधित करते हुए साहित्यकार ओम निश्चल. इस अवसर पर गंभीर समाचार के 101 वें पत्रकारिता विशेषांक का लोकार्पण भी किया गया.